Squadron Supreme #3 Review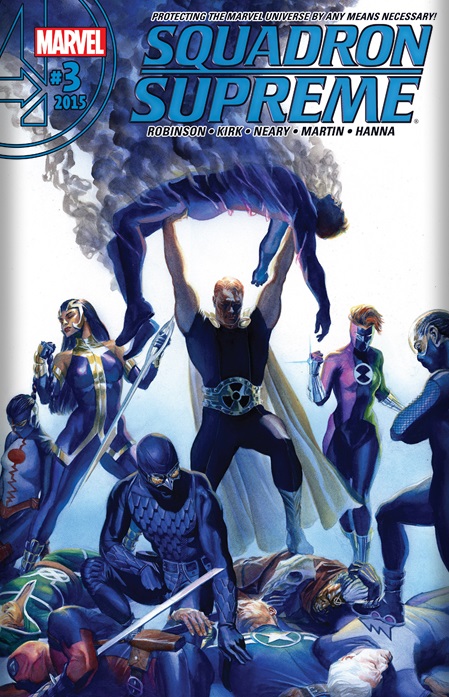 SQUAD GOALS!
The Squadron must answer for their extreme measures and the Uncanny Avengers are here to collect!
Across the globe, they hear the call…but will the Squadron assemble fast enough to come to Nighthawk's aid?
Plus: Thundra makes her move!
What I thought
Firstly let me just say this is the ugliest issue thus far. Everything looks rushed, lacks detail and a host of other issues.  Despite this however it was an exciting issue with Nighthawk and the Squadron Supreme taking on the Uncanny Avengers. Nighthawk and Blur stand out the most throughout the tale with the young Blur going pound for pound with the former son of Magneto. I found this quite impressive due to Blur's age.
I was also impressed at how Nighthawk handled Dr. Voodoo immediately, the same way most would have taken out Dr. Strange. This is a testament to his power and a game changer on the battlefield. He was after all the only person to be both Houngan Supreme and Sorcerer Supreme at the same time before his death and return. I would have loved to have seen more of the Nighthawk vs. Steve Rogers but there are only so many pages in the book. I also enjoyed how Thundra was brought in to not just take us into the next arc which revolves around Weirdworld. I also thought this was a good intro to the original android Human Torch because I never cared enough about the character to google him but I now know his powers are far more than simply shooting flames.
Overall I enjoyed this issue allot despite the shoddy art. I give this one 3/5 stars