All New, All Different Avengers #2 Review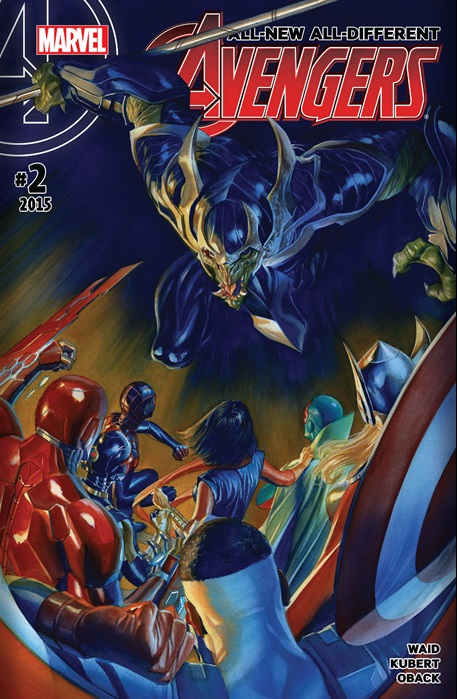 The Avengers are dead–long live the Avengers! Earth's Mightiest Heroes–Captain America, Thor, Vision, and Iron Man–are living separate lives, not tied to any team–but when a threat from beyond the stars targets our world, fate draws them together once more, alongside Nova, Ms. Marvel, and Miles Morales a.k.a. Spider-Man!
Summary
Spider-man and Vision show up to aid Iron Man and All New Captain America after they were trounced at the end of last issue. As the Alien goes on a rampage Nova and Ms. Marvel are drawn into the mix. The team comes together just as All new Thor arrives but thanks to the shady businessman aiding the villain, he escapes.
What I thought
The dynamic between Nova and Ms. Marvel is the best part of this team. They are both legacy heroes, both young, both inexperienced and both have so much to prove. They are the eyes and ears of the new generation of marvel fans and they are used very effectively.  The new female Thor makes an epic entrance and it's dramatic as hell. Miles Morales also steps up this issue and it is pretty cool. The art courtesy of Adam Kubert hits all the right notes with expressive faces and well choreographed fights. The cover by Alex Ross is dynamic and gorgeous though a notch below the beauty of last issue.
Overall this was another enjoyable though formulaic issue. The team is assembled against a common foe and they will no doubt band together as the Avengers when this is all over. We give this issue 3.5/5 stars