All New, All Different Avengers #1 Review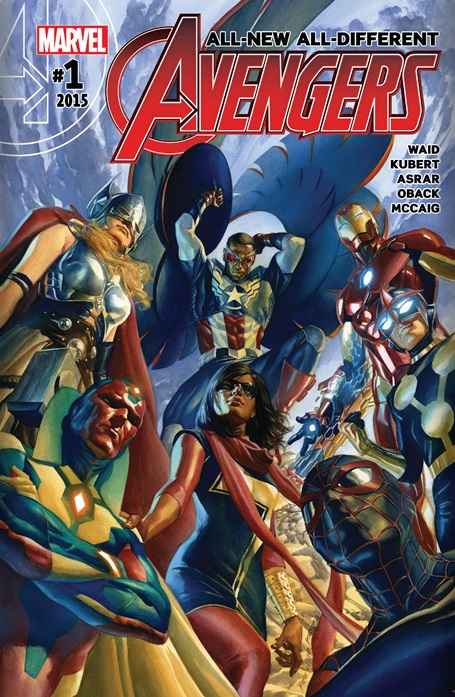 The Avengers are dead–long live the Avengers! Earth's Mightiest Heroes–Captain America, Thor, Vision, and Iron Man–are living separate lives, not tied to any team–but when a threat from beyond the stars targets our world, fate draws them together once more, alongside Nova, Ms. Marvel, and Miles Morales a.k.a. Spider-Man!
What I thought
The awkward attraction between Nova and Ms. Marvel was too cute! It was awkward in that teenage "I like you but don't know how to behave around you" type of way.  I loved it! It took me way back to High School and that "awkward phase' we all go through. These two on the same Avengers team, this is going to be fun!
The other aspect of the issue I loved was the fallout from Sam Wilson Captain America, with Sam Wilson still on the outs with many modern Americans. After his daring and totally awesome rescue the crowd breaks into factions. They then put him on spot with a bunch of kids selling cookies. It starts off awkwardly funny then escalates into a scary. Modern day celebrities face the same scrutiny daily and it really brings home the point that Sam Wilson really is just a small town American thrust into a limelight and put under a microscope he's not accustomed to. There is also a solid discussion that can be generated from just which child Sam would have bought cookies from…that will surely be a discussion in my Philosophy of Education class come Monday! Sam handled it well all things considered. Tony Stark's new status-quo has also piqued my interest enough to check out his new series.
The rest of the issue established the villain, the shady corporation now in charge of Stark Industries, the rest of the team such as Miles Morales, All New Captain America and the beat up and tattered Tony Stark. Standard stuff.
Verdict
Like New Avengers this opening issue makes a strong case for being on anyone's pull list with a solid statement on what it's about coupled with discussion inducing situations, debatable outcomes, decent art, a banging cover and solid characterization. If you can only pick up one Avengers comic this is the one! 4/5 stars