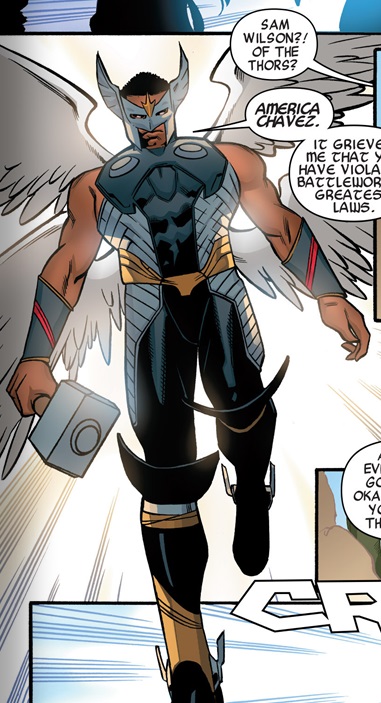 Publisher: Marvel Comics
Created by: Marguerite Bennett, G. Willow Wilson and Jorge Molina

1st appearance: A-Force #1, 2015
Aliases: Samuel Thomas Wilson
Team Affiliations: The Thors
Legal Status: Unknown
Height: 6'2              Weight: 240 lbs
Eyes: Brown                   Hair: Black
Relatives: Falcon/Samuel Wilson (Alternate reality counterpart) 
Skills and Abilities:  Unknown
Powers: Sam has four feathered wings which grant him flight. It is presumed he can telepathically command and control birds.
Equipment: As one of the Thors of Battleworld he wields a hammer of Thor which grants him power over the weather and other abilities similar to the God of Thunder.
Biography
At an unknown time in the past he was chosen as a potential candidate to join the ranks of the Thors to protect Battleworld and enforce the will and laws of god Doom. He was successful in lifting the hammer of Thor and joined the Thor ranks. When America Chavez breaks a law of Doom he is the first Thor on site and reprimands the young girl. His actions led to her being taken to the Shield [A-force #1].