Mighty Avengers (2013) #11 Review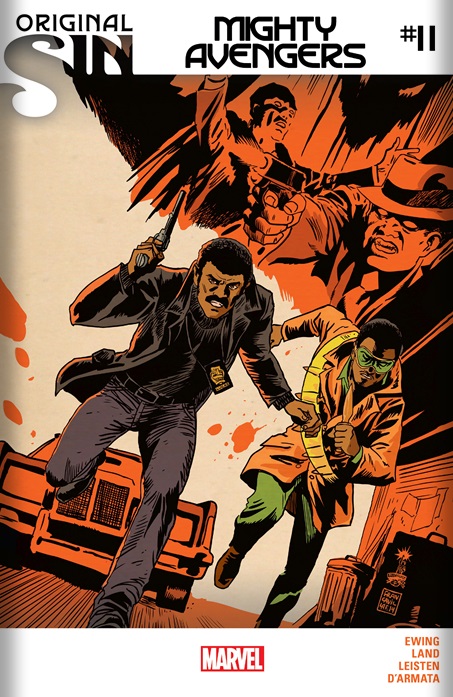 ORIGINAL SIN tie-in!
Dr Adam Brashear, super-scientist! James Lucas, cop on the edge! Kaluu, master of black magic! Constance Molina, two-fisted reporter! The Bear, explosives expert and were-woman! Blade, vampire slayer!
In 1972, they banded together to fight what couldn't be fought alone – as the Mighty Avengers!
This issue, Luke Cage confronts his father – to learn the secrets of the Avengers that time forgot!
The Good
Art- Greg Land haters can kiss my ***s because this looks great! The expressive eyes well proportioned bodies and drop dead gorgeous women all light this book on fire! The two page spread showing Kaluu vs. Blade is one of the definite highlights of this well drawn issue. I like it and don't apologize for liking it!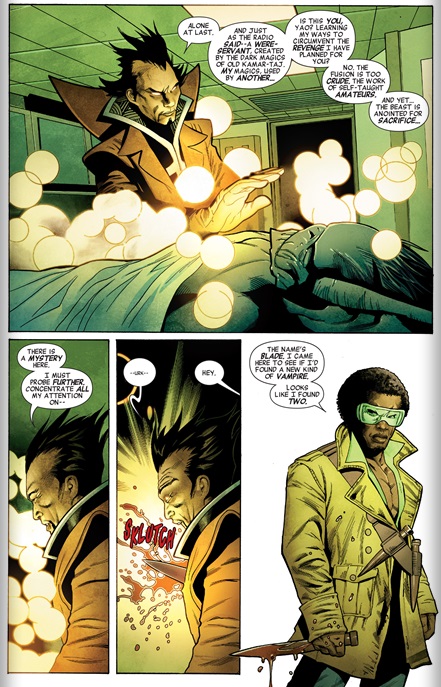 Story-In the aftermath of the Watchers eye bomb going off (See Original Sin for details) Luke Cage confronts his father James Lucas about the secrets he's kept from his son. In the past James stumbles onto a super-human corpse. Constance Molina and James try to track down leads while Blade watches from the shadows. When the body is taken to the morgue the sorcerer Kaluu shows up and takes control of their minds. Blade mistakes Kaluu for a Vampire and the two fight. Blue Marvel, James and Molina arrive at the scene and Marvel breaks up the fight. A mysterious blonde then shows up saying she killed the creature to stop the Deathwalkers from destroying the world. In the present Blade is sacrificed in the Deathwalkers ritual while at the Mighty Avengers call center Constance Molina and Kaluu call to arrange a meeting with the team.
Father and Son– It was genuinely engaging to watch the exchange between Luke and his father James. His lie of omission opened things up in a major way to tell tales, which is always a good thing!
Black Heroes- Blade's retro-sheikh makes an appearance as does Dr. Brashear in his "non-blue marvel" era. Constance Molina could go either way in terms of making her an addition to things but we will see how that plays out.
Cover– The retro style of this cover fits the general theme of this issue.
Retcon– One thing this series has done exceptionally is implement retcons that compliment established continuity and presents the readers with layers of new story telling potential. This "new" old history of the original Mighty Avengers while drawing James Lucas into things is a wonderful idea.
The Bad
Retcon/Watchmen– I know jack about Watchmen besides the movie but I have seen and heard all kinds of stuff that by retroactively making a "Mighty Avengers" team exist in the 70's Marvel has effectively made their own Watchmen team. (Shrugs) That may be an issue to some.
Premise– This "truth bomb" exploding is an interesting concept but it seems rather strange that some memories stayed with some characters while other didn't. The mindless ones were driven crazy yet the heroes just settled on a handful of memories and life just goes on. Weird!
Transition- There is one scene in the issue which seems to come straight out of left field with no visual context is the appearance of "the bear". It's a typical Land pin up sexy pose but no visual cues means the flow of the story is thrown off but her just appearing.
The Ugly
Overall I found Mighty Avengers #11 highly enjoyable. This book has been supplying marvel with quality retcons that blend seamlessly into established continuity and this issue is is much the same but with a sexy cover and slick interior art. I give Mighty Avengers #11 a 3.5/5