Avengers (2013) #14 Review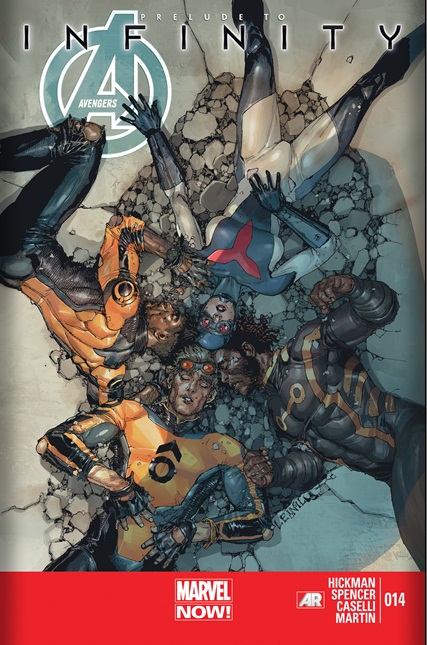 "THE SIGNAL" – Prelude to Infinity
All of the Origin Sites go active as the Earth begins to communicate with something much more ancient than human civilizations.
The Terror scientists of A.I.M. unveil the S7 program.
Prelude to INFINITY: Part One.
The Good
Cover- This cover starts the countdown to the infinity event by Jonathan Hickman which I'm looking forward to (despite a heavier class load at work and staring my master's degree). On the cover this month is Cannonball, Sunspot, Smasher and Eden Fesi all defeated and laying unconscious on the cracked pavement. Very detailed, I like it!
Interior Art- As usual with this book everything looks awesome!
Black Heroes-Sunspot and Eden Fesi get some of the spotlight this time and our Dues Ex Machina aka Captain universe shows up.
Action- This issue had quite a bit of action which was well illustrated.
Payload- So since Issue #1 it has all been leading to this, the seeds that hit earth thanks to Ex Nihilo, alien communication technology, Earth in dangerous peril, Avengers springing into action it's all here really.
The Bad
I have very little idea of what's going on in this issue which is why it took so long to review. I'm still pretty damn lost and I've been here since Avengers (2013) #1 now if I'm lost imagine what a new reader is going through.
The Ugly
This is one of those Hickman issues where you have no idea what's happening and will only see the storyline tendrils after the whole thing is over. In that sense picking this book up every month is fun sure but the tpb fans really will get more out of it than we do. 2.5/5