Uncanny X-force (2013) #7 Review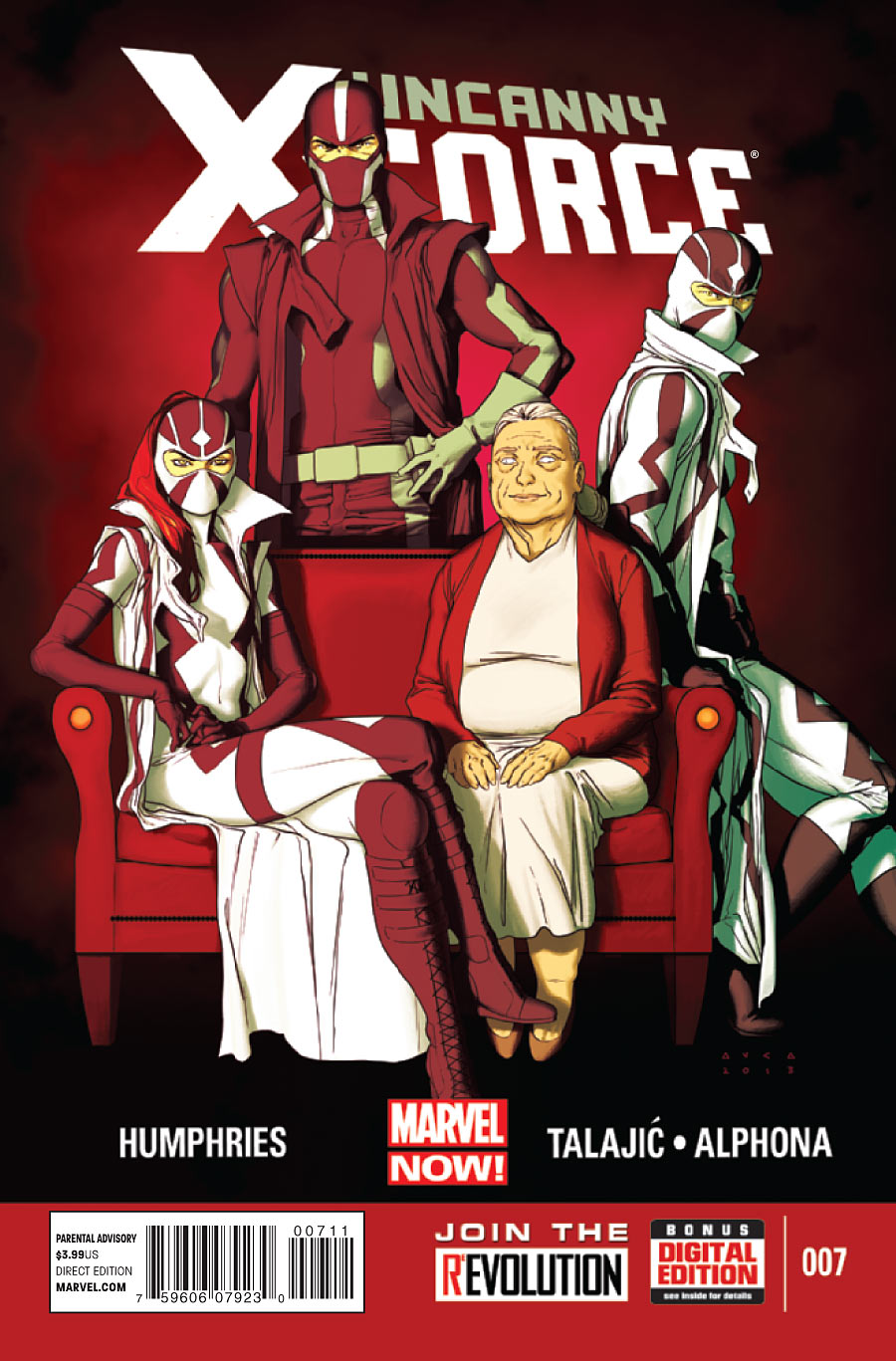 What does Fantomex want from Betsy?
What does Betsy want from Cluster?
What does Cluster want from Fantomex?
The Good
Cover- Cluster, Weapon XII and Fantomex surround their "mom" as a red hue bathes them all. Despite the vacant background it looks pretty good.
Flashback- So we get a glimpse of what happened in Paris between Psylocke, Fantomex and Cluster. Now that we know Psylocke went Bi for awhile with Cluster….just how did Cluster and Fantomex start swapping spit? Oh lord what a soup opera!
Go go club- Ok so this may sound pretty sexist but I got a serious kick out of the superhero themed go go club.  It seems like such a predictable indulgence for geeky men I can't believe it hasn't been seen or used before.
Humor- I was very amused at the tongue in cheek way that the classic Psylocke dressed black dancer got flack for rocking the look since she wasnt white and she should only rock storm……Ive heard a similar plight by a great many black cosplayers but like Maki, Jay Justice , Eric Moran and Andrea Bui she keeps on rocking it in style! f*** the haters!
The Bad
Art- Not feeling the art by Adrian Alphona and Dalibor Talajic
Still waiting for Storm to step out of the background on this book…but this is clearly not happening for awhile.
Predictability- Unfortunately the kiss between Psylocke and Cluster was expected the way the flashback was set up making what could have been a shocker just yawn inducing. On another note I would think that a heterosexual woman like Psylocke would have been a bit more weird-ed out that the "personality" she loved was inside a woman's body??????
The Ugly
Overall this issue was a step in the right direction but I would recommend that they replace the artist, this one gets a 3/5