Ultimate Comics Spider-man #21 Review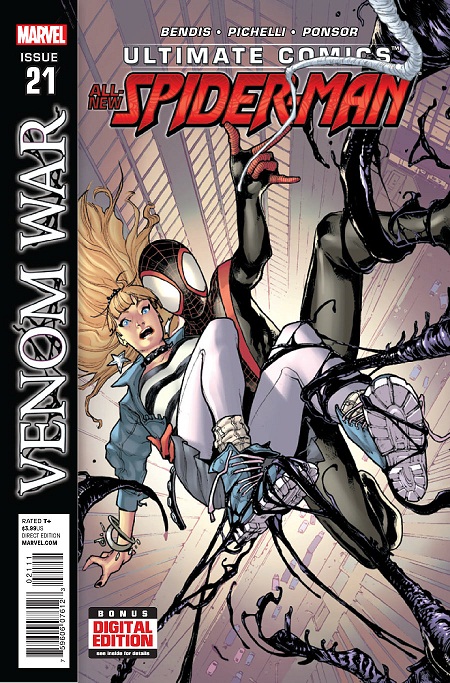 VENOM WAR CONTINUES
As his father lies in critical condition, Miles is desperate to solve the mystery of the new VENOM!!
How does the villain know so much about Miles?
Miles turns to the one person who can help him… Gwen Stacy!
The Good
Tension- Right now I'm curious as to who has set Venom loose once more and killing a great many people in their bid to track down the new Spider-man. Miles lack of knowledge of Peter Parker and by extension his friends and family and how the Venom creature endangered their lives I making him a living target. Luckily Gwen and Mary Jane are here but what they reveal no doubt will make Miles and his best friend even more terrified of the life they have been drawn into than ever before.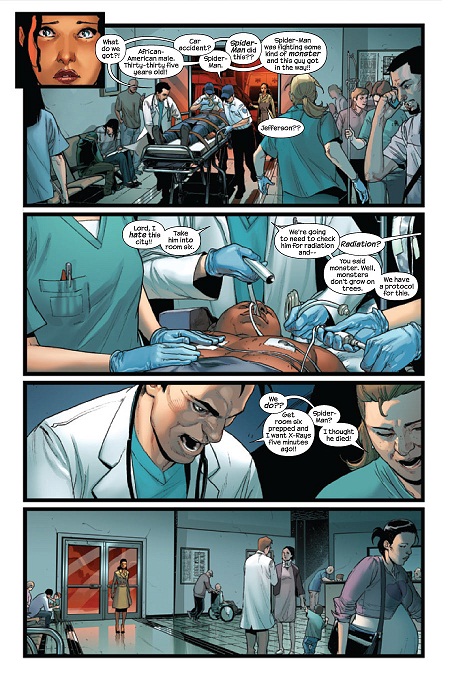 Art-The interior art is lovely and highly detailed yet smooth, Sara Pichelli as always does stellar work. Her rendition of the venom creature is a nasty piece of work; it truly is something from nightmares.
Humor– Despite the serious mood I found the exchange between the girls in the fast food restaurant to be quite funny.

Traumatic- Of all the characters in this issue I feel most of all for Miles mother Rio Morales. Bendis manages to capture the reality of being in the emergency room and the sense of isolation and powerlessness that permeates it. Miles may be thinking about his family's well being but he has no idea that while he has the support of his friends he's left his dear mother all alone to deal with what's going on with his father.
Black Hero–Miles Morales our Spider-Man is here and we have black supporting character Rio Morales.
Tie in– I'm digging the use of Venom as the most recent villain on this book since it brings Miles deeper into the established Spider-man mythology. Also digging Mary Jane and Gwen being brought in to support Miles and help him decipher the mystery of why Venom is attacking his father. Also for long time ultimate Spiderman fans we get nods to back issues of Gwen Stacey being consumed by Carnage, her "death" and her rebirth as well as her shared history with Mary Jane.
The Bad
Cover-Design wise the cover should have been good but the hollow nature of Gwen Stacey's rendering; her face has zero details besides coloring. Everything else seems cobbled together and rushed.
Disconnect– Unfortunately for this title somewhere along the way it lost me, the personal investment I once had, went in the crossover and I'm struggling to get it back. Unlike David Zavimbe/Batwing who I fell in love with over the course of his series Miles recently seems like a kid neighbor or acquaintance who I "should" feel more for, but just can't. The stakes are high with his father being on Venom's $hit list but I'm more in tuned with his mother.
The Ugly
 While Miles is no longer our emotional center Bendis still manages to make this book one of the best black lead titles on the shelves and arguably still one of the best books you can spend your money on. This storyline has not reached it's climax yet so the slow burn is expected. Regardless this issue is a solid 3.5/5