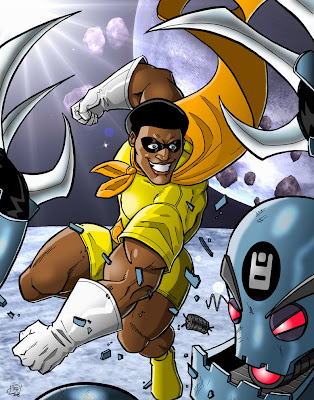 Publisher: Filmation Studios
Created by:  Bill Cosby
1st appearance: The New Fat Albert Show (1979)
Nationality: US Citizen
Team Affiliations: Unknown
Legal Status: Unknown
Height: Black           Weight: Unknown
Eyes:  Black              Hair: Black
Relatives: Unknown
Skills and abilities: Unknown
Powers: Superhuman strength, speed, flight and shapeshifting. He could also create just about anything out of thin air to save the day.
Biography
The concept for the Brown hornet had origins in Bill Cosby's stand up routine during the early part of his career. Originally Brown Hornet was made for radio as an African American version of the "Green Hornet".
Before being made for television however the concept was reworked into a space faring parody of Space-Ghost. He existed in a show "The Brown Hornet" within a show "Fat Albert". In terms of personality he was what you would classify as "bumbling" though he always managed to save the day with his sidekicks Tweeterbell and Stinger. Like most cartoons of the time he promoted positive social values which normally underpinned the episodes in which he appeared.