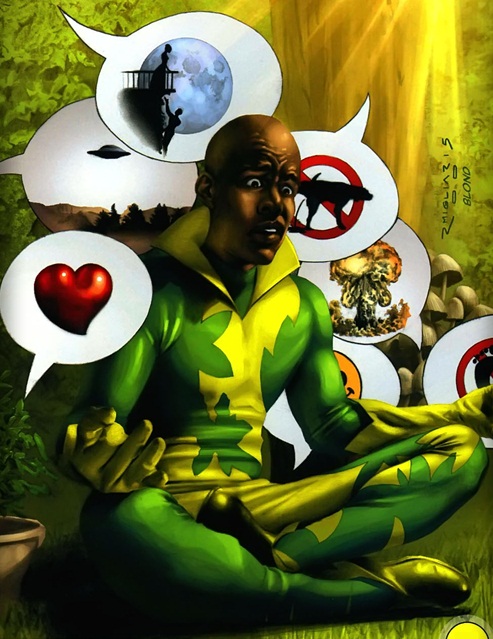 Real Name: Charles Levy

Publisher: Top Cow
Created by:  Seth Green and Hugh Sterbakov
1st appearance:  Freshmen: Introduction to Superpowers #1, 2005
Nationality: American
Team Affiliations: Freshmen
Legal Status: Unknown
Height: 5'11              Weight: 140 lbs
Eyes: Brown             Hair: Black
Relatives: Unknown
Skills and abilities: Unknown
Powers: He has the power to communicate with plants telepathically and has empathic powers so he can sense their feelings.
Biography
Charles Levy became interested in animal protection and environmental activism when he was in sixth grade. His parents, respected Philadelphia lawyers, believed in encouraging their son's interests and supported him in every way possible, The entire family went vegetarian and Mr. Levy funded trips to Washington so Charles could participate in important protests. Charles even spoke in front of congress when he was only twelve years old urging greater legislation for animal rights. This is a young man who takes himself and his work very seriously.
Although Charles has an entire greenhouse full of gorgeous beloved plants at home in Manayunk Pennsylvania he chose to bring only his favorite with him to school: his ficus tree, which he calls Susie. He regularly speaks to Susie, a ritual recommended by an herbalist mentor of Charles, who supposes that plants can feel positive and a negative reinforcement from our voices through the reverberations Charles has come to….and has come to think of her as the ear of his life's journal. The ax-cell-erator exploded as he was whispering to her and when he awoke he could communicate with plants.
Charles wasn't prepared for the surprisingly abrasive and negative disposition of most plants. Embittered from being displaced and potted, as well as humanity's disregard for the planet's air quality, they're very eager to tell our race's first plant whisperer what they think of us. As a result Charles finds himself under constant attack. He's also hungry, since now most of his food can beg for mercy and he's tired, because Susie spends all night with rampaging emotions as she repeatedly declares her love for him, and worries that he's cheating with other plants. Who knows what the future holds for Charles and his tenuous affair with a ficus tree….