Publisher: DC Comics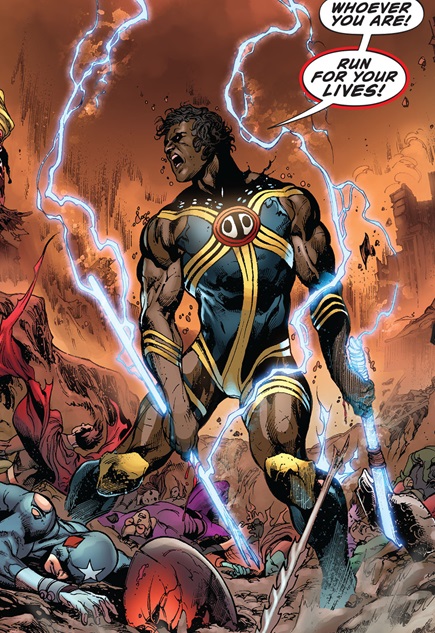 Created by: Grant Morrison 

1st appearance: Multiversity #1, August 2014
Real Name: Unknown
Alias: Unknown
Team Affiliations: Multiversity
Legal Status: Unknown
Height: 6'2              Weight: 240 lbs
Eyes: Brown                   Hair: Black
Relatives: Unknown
Skills and Abilities:  Military training in armed and unarmed combatant.
 Powers: As a god like the Olympians he has superhuman strength, durability and reflexes. He has also not visibly aged since physically becoming around thirty years old and has an expanded lifespan far beyond that of normal men. He also has unspecified electricity generation abilities.
Equipment: He usually carries weapons through which he channels his electrical powers.
[amazon_link asins='1401265251,1401256821,B01JW8YBMI' template='ProductCarousel' store='DC Comics' marketplace='US' link_id='29e3ea5d-c80a-11e7-9a0d-4196b510d371′]
Biography
From the alternate world of Earth- 7, he was a member of his worlds superhero team called "The Retaliators". They had their planet attacked by the dark collective comprised of ; Dame Merciless, Hellmachine, Lord Broken, Intellectron and Demogorgunn. His team was killed and he alone was left alive before their might. He was rescued by Nix Uotan the last of the monitors  who exchanged himself for the hero.
Taking Nix's "Super Boat" he reached the Hall of Heroes/Multiversity where he sent of a multiversal distress call to recruit heroes from all across the 52 parallel DC Comics earths. He recruits many heroes most notably Bloodwynd and President Superman.
Attempting to get back to Earth-7 to save Nix Uotan they reached Earth-8 which was an exact replica of his own except his counterpart was white. Alongside President Superman and others he is unable to reach Earth-7 as Nix Uotan is reborn as a twisted dark evil version on himself on Earth-8 [Multiversity #1].