New Avengers (2013) #21 Review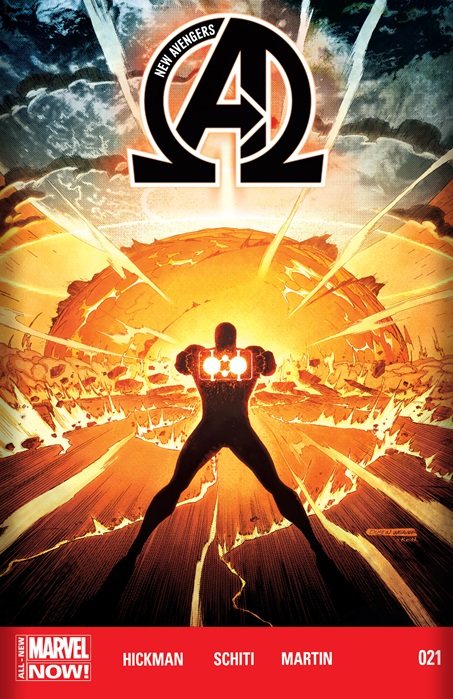 A world must die! But which New Avenger will find the strength to press the button? And what will come in the aftermath?
The Good
Story– In the present Dr. Strange unleashes an elder god which completely decimates the Great Society. The Illuminati panic and quickly take him down. They are shaken by the death of the Great society and what Dr. Strange has become, so shaken are they that none of them can detonate the bomb not even the Black Panther who is counselled by his father and the panthers of the past. Namor however has no such issue and detonates the bomb and killing the other world.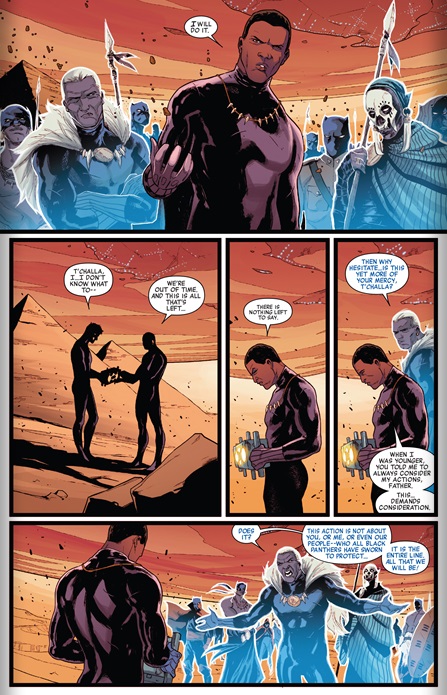 Emotion– I understand why the team has crumbled in the current situation. They have just faced down men of equal if not superior moral standing to themselves. They have watched their friend Dr. Strange literally become a monster in the face of the incursion. They see themselves reflected in his monstrous transformation and have come to the point that they don't like what is staring back. The exchange between Black Panther and his ancestors is particularly touching as he can never seem to live up to their expectations. It was already established in the Priest run of Black Panther that he was very different from his father T'chaka. The dogs of war/Hatut Zeraze were sanctioned by T'chaka to do anything necessary to ensure the safety of the kingdom. T'challa disbanded them because of their immoral ways. T'chaka was an isolationist and chose to keep his nation so while T'challa has done the exact opposite as he accepted refugees int he Priest run and accepted help from the Avengers, Fantastic four and X-men on occasion to aid his people. They are different and have different outlooks on life. This exchange was hurtful for T'challa simply because it echoed the sentiment that son's will never live up to their father's expectations. It's painful not just for T'challa but for his dead father who realizes that his son is not the man he wanted him to be.
Maximus and the Swan– Who is playing who in this situation? What does it mean for what comes next? 
Namor- Unlike everyone else I am one with Namor on his decision to simply destroy the other earth so that our Earth-616 can survive. While I understand why the other members of the Illuminati are overwhelmed by the emotion of the situation, seeing Dr. Strange almost destroy them all was very sobering as to just how far they were willing to go thank goodness Namor was on hand to make the hard choices.
Moral Ambiguity- Is it morally right to kill a planet to save your own? could you do it? Would you agree with Namor or T'challa?  
The Bad
Complaints– My internet has been down and so this review is going out but I must say that people complain every-time a writer tries anything remotely interesting with T'challa. The new complaint is he's now a failure. The very best and most memorable moments in a characters life are when they stumble and fall and how they pick themselves back up. Batman defeated and broken by Bane, the Death of Superman etc. these showed our heroes at their weakest but having them recover and deal with the threats was a thing of beauty which makes them some of the best mainstream comic stories in history. We have had a perfect T'challa written by Christopher priest and you know what, you stopped buying it and it was cancelled. We got a more human and relatable T'challa written by Hudlin and you stopped buying that too and it was cancelled. They had him outsmart Doom in Doomwar and ya'll complained. He was an american vigilante in Black Panther Most Dangerous man alive and ya'll stopped buying it and it too was cancelled. Instead of complaining why don't you do something about it. Time to put out or shut up!! If you don't like it buy indie and spare those of us who are fans your tired old complaints. It's been done before.
X2– Am I the only one who hated T'challa collapsing into an emotional mess on the floor while Reed Richards cradled him in his arms? No? It reminded me of my most hated X-men movie scene of Cyclops doing the same in X-men 2. I can see T'challa falling to his knees and shedding a tear but in Reed's arms is just…out of character for me. Equally I find it hard to believe T'challa could not do it, it would have seemed more in character to push the button and lament about it afterwards to me..
Art– It could have been damn near perfect but those last three pages are just jarringly different and destroy the flow of the book.
The Ugly
Overall New Avengers (2013) #21 was an emotional, gripping and deeply engaging book that deserves your love! 4/5