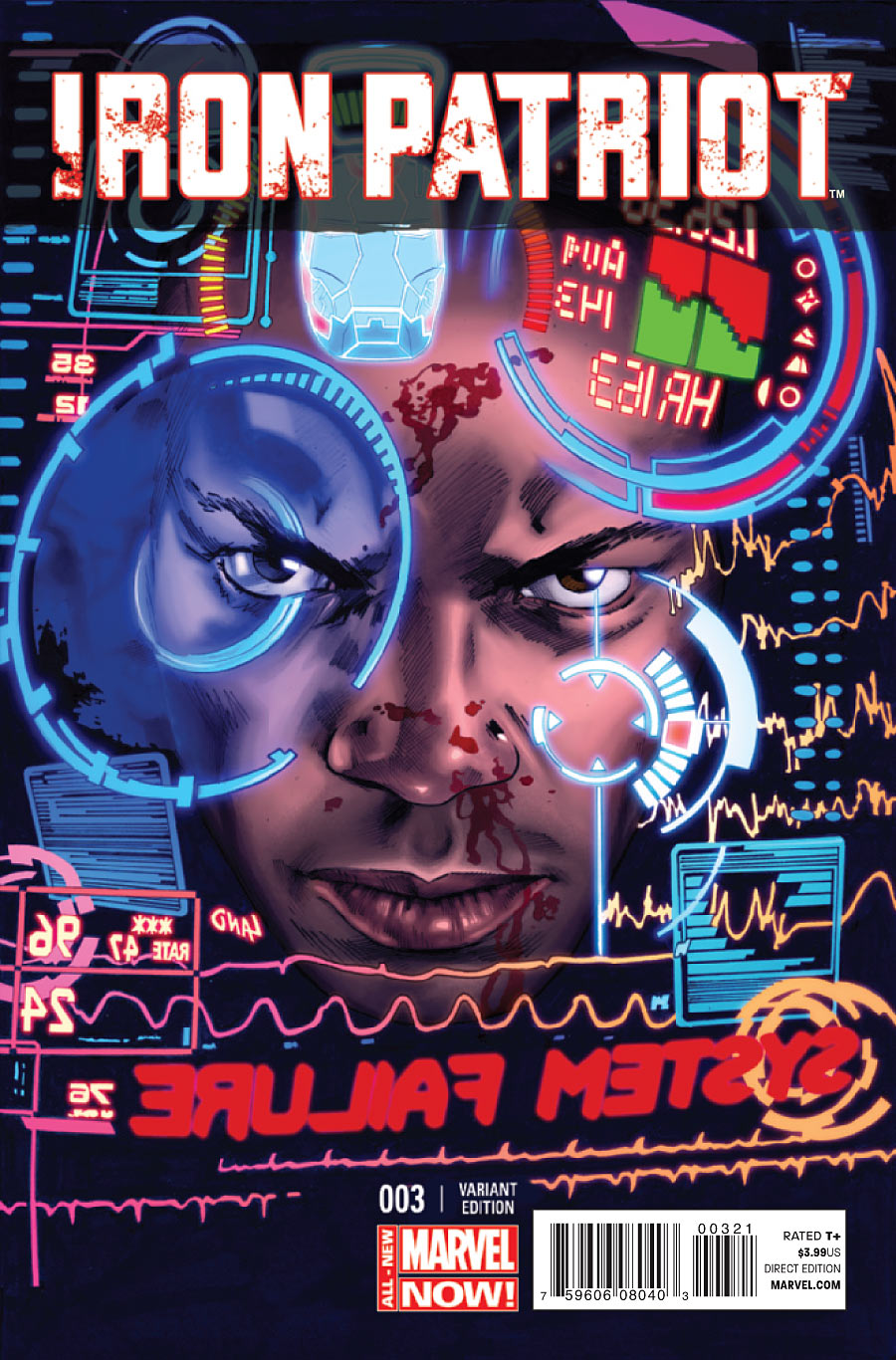 "UNBREAKABLE" PART 3
Iron Patriot's family dances on the edge. The scope of the plan is revealed and James Rhodes dies!
The Good
Summary– In New Orleans James Rhodes has had a heart attack. The armoured villain has to save his life by restarting his heart. Elsewhere his father is tortured while his niece has been forced to watch. When James wakes he is told to kill the commander in chief of America. His dad sacrifices himself so his niece can escape and she makes her way to the cops though she gets shot.
Theme– I like the idea of the covers where the colors of the American flag red, blue and white dominate each. It's a neat idea though the execution is way off!
Cover– The alternate cover is sexy as f**k! It's a shot of James inside his armor with the same display from the ron Man line of movies. If you can find this cover it's worth the price, it is sick!
Black Hero– War Machine/Iron Patriot in his own ongoing is kinda cool.
Family– It's neat that the decided to "expand" the Rhodes clan. Execution is wanting but hey, at least they tried.
The Bad
Action– None to write home about and what it tries falls flat.
Boring– This book has two more issues to impress me because It can't possibly get more boring than this. I really don't give a damn about his family and wouldn't mind them all being killed in some terrible way just to have something remotely exciting take place.
The Ugly
Honestly this is book is just terribly average on every conceivable level. The art, covers and story all seem so damn generic. Why should I buy or recommend this and not Batwing, Mighty Avengers, Galtow, Watson and Holmes, Hercules Payne, Ajala or Nowhere man? It lacks that certain something that separates good books from garbage. We give Iron Patriot #3- 2.5/5 stars