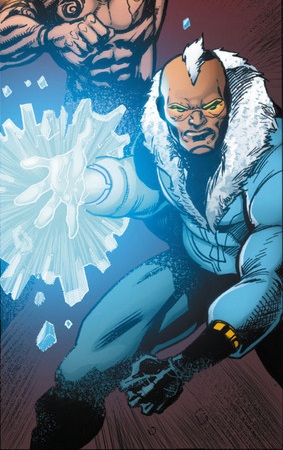 Real Name: Charles Murray
Publisher: DC Comics
Created by:Adam Glass, Fernando Dagnino
1st appearance: Resurrection Man Vol 2 #8 (June, 2012)
Nationality: American
Team Affiliations: Suicide Squad

Legal Status: Unknown
Height: 6'                       Weight: 185 lbs
Eyes: Brown                       Hair: White
Relatives: Unknown
Skills and abilities: Capable hand to hand combatant.

Powers: Charles has the power to generate and control Ice (Cryokinesis).
Biography
Charles was a professor of some repute at one point in his life. An unknown experiment granted him superpowers and he turned to a life of crime. Caught and sentenced to Belle Reve he decided to work of his sentence on the Suicide squad run by Amanda Waller. Somewhere along the way he was hypnotized into becoming a sleeper agent for the criminal syndicate Basilisk. Upon activation him and Black Spider (and others) attacked their teammates. The only thing that pulled him out of the brainwashing was when his hand was cut off by Deadshot. This triggered a mutation of some kind as he entered an ice cocoon and when he reemerged his lost hand was replaced by one made of solid ice.