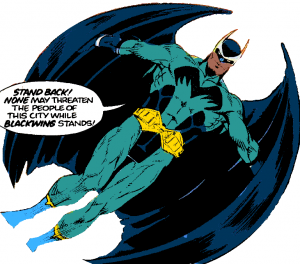 Real Name: Charlie Bullock
Alias: Black Batman
Publisher: DC Comics
Created by: Dan Mishkin and Curt Swan
1st appearance: WONDER WOMAN #281, 1982
Nationality: American
Team Affiliations: Unknown
Legal Status: Unknown
Height: 170 lbs                 Weight: 5'11
Eyes: Brown                        Hair: Black
Relatives: Unknown
Skills and abilities: Training martial artist and boxer
Powers: None. His costume has gliders for wings allowing flight.
[amazon_link asins='B008Z7ZRYO,B01IXZXPAU,1401234763′ template='ProductCarousel' store='Black panther' marketplace='US' link_id='1e536648-c7a6-11e7-9384-af77c0736d47′]
Biography
Growing up in the Gotham City ghettos Charlie Bullock was taken under the wing of Ted Grant as a teen where he was taught the martial arts and boxing. This new discipline helped him stay focused and out of trouble while at school. Upon graduating High School he went to Law School. He graduated top of his class and went on to work at the law firm, "Crantson and Grayson".
While at the firm working with Dick Grayson the former Robin and Helena Wayne/Huntress they were attacked multiple times leading him to creating a new crime fighting identity to save Gotham like Batman before him.
Because of his lack of experience his first outing as a superhero ended with him captured. This was a blessing in disguise however as he was rescued by Huntress. After this they became partners on many adventures.
During the original crisis on infinite earths his world "Earth 2" was wiped from existence.
It's unknown if he exists now on the new "Earth 2" after the "Flashpoint event".