Avengers (2013) #1 Review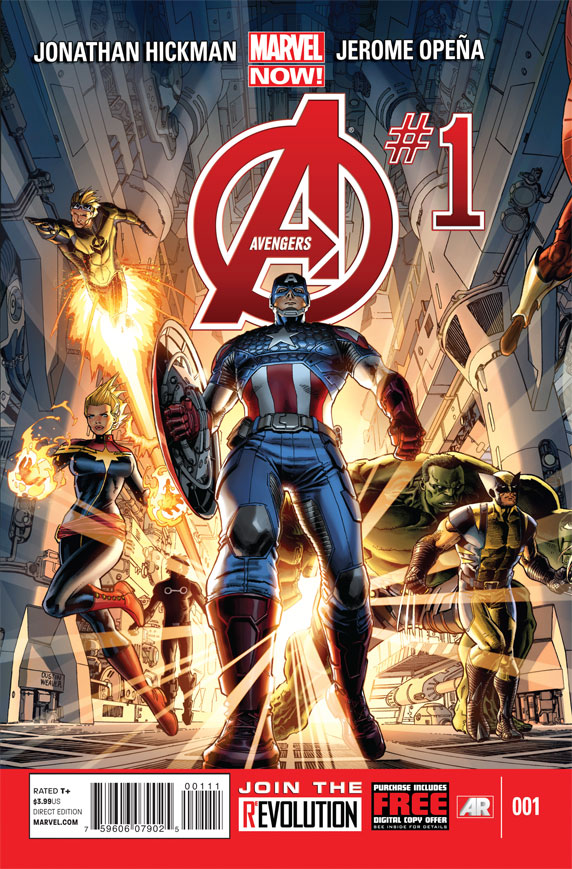 The greatest heroes in comics together on one unbeatable team! Now shipping twice a month, the Avengers "go large," expanding their roster and their sphere of influence to a global and even interplanetary level. When Captain America puts out his call – who will answer? Big threats, big ideas, big idealism – these are the Avengers NOW!
Summary
Iron man and Captain America put a new Avengers program into effect in anticipation of a worst case scenario. In the present Mars has been converted/recreated by the Avatars of creation. The Avengers comprised of Cap, Stark, Widow, Hawkeye, Thor and Hulk take the fight to mars where they are soundly defeated and Cap is sent back to earth battered and defeated.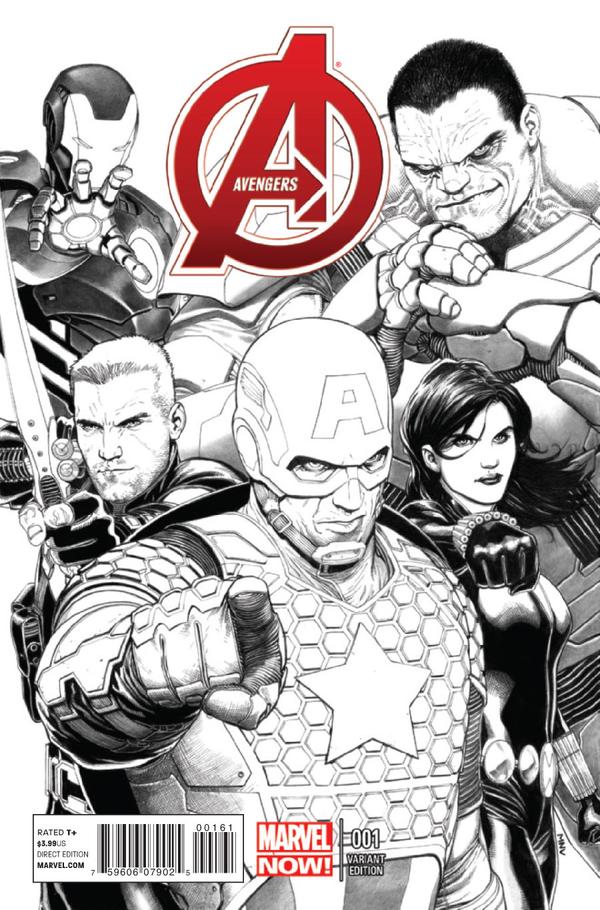 Once he recovers he activates the protocol implemented by himself and stark and he assembles a new team of Avengers for the task of rescuing those captured and defeating this new threat.
The Good
Accessibility- Hickman you sly dog! By using Hulk, Captain America, Hawkeye, Black Widow, Iron Man and Thor (Joss Whedon's movie team) it gives this first issue a level of accessibility to new converts from the movie not common in modern day ongoing comics. You come in well aware of the skills abilities and personality of these veterans and the entire thing sets the stage for the premise of the book. A global functioning larger more diverse cast of Avengers! Very nicely done!
Cover- The standard cover with Captain America front and center that connects t other covers is very dynamic with its use of light and darkness. There is an alternate cover to this one with ½ the colors stripped to reveal the inks only, I like it!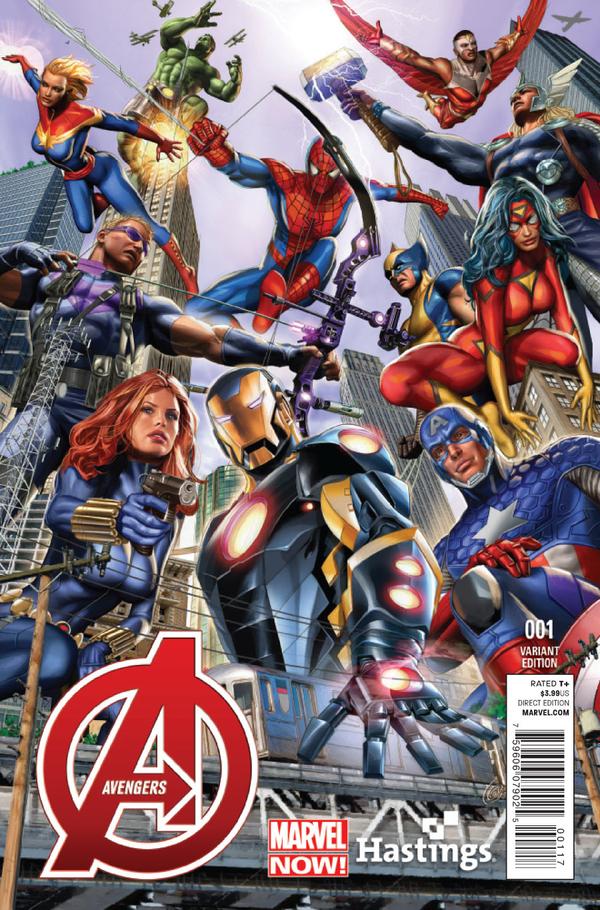 Variant Covers- By far my favorite cover was the one with Captain America in the foreground flanked by Hawkeye, Black Widow, Iron Man and Hulk. The sketch of said cover is also well worth the price with its stunning ink work. Another cover worth owning was the one with Captain America and Thor only in the heat of battle
Mystery- Who are the members of this new team outside of those already announced? In particular who the hell is the new Omni/Uni power wielder?
Threat- These Avatars of Creation seem like a major threat to life on earth itself easily warranting a different kind of Avengers team for the task, thus justifying the existence of the team.
Art-Honestly I never expected to like the interior art but it's so beautifully executed I can't help but anticipate the turning of a page and the next stunning art piece. Kudos to Jerome Opena for a stunning opening issue!
Black Heroes- Sunspot (Afro-Latino from Brazil), Falcon (First African American superhero), Eden Fesi (Aborigine descent) and a new black chick wielding the Omni/Oni power! Yes please and thank you very much!
Action- While the fight itself didn't last very long I found it very exciting and well choreographed, action junkies should be pleased.
The Bad
Alternate Covers- The plain white cover is too overly simplified for marvel to honestly charge the same price for it. Sorry that is lazy design work and then charging premium price for a white piece of paper with a footer and a logo? Really marvel?!
The A-babies cover is also quite useless from any standpoint you look at it honestly.
The worst cover ever though has to be attention whore deadpool cut and pasted onto the standard cover doing the equally ridiculous fad gang-nam-style dance (Rolls eyes). The inks only version as you can guess is worth as much.  The midtown comics' exclusive cover for some reason just seemed like a waste of time as did the others. NB marvel- Do you honestly need so many different covers for a single issue? Why not spend that money on launching a book centered around a few women or black characters?!
The Ugly
Hickman turns in a very well crafted book that pulls you from reality and into the adventure. Here's to a bold new era for the Avengers! 5/5