Christine Cord (Character)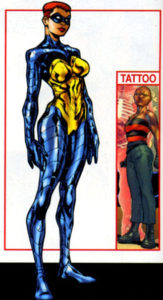 Publisher: Marvel Comics
Created by: Grant Morrison

1st appearance: New X-men #134 (2003)
Alias: Tattoo, Stilt woman, Black Stilts, Black Stilt man, Longstrike
Team Affiliations: New Warriors, Omega Gang
Legal Status: U.S citizen with criminal record
Height: 5'8              Weight: 120 lbs
Eyes: Brown                  Hair: Black
Relatives: Unnamed parents, Christian Cord/Radian/Phaser (Brother)

Skills and Abilities:  Trained in unarmed combat while at Xavier's school for the gifted.
Powers: Formerly: As a mutant she could phase her body into other objects. Her skin was also in a constant state of partial discoloration. She could control the composition of her skin to blend into her background or display her thoughts and desires.
Currently: Before her death she wore a suit based on stilt ma technology allowing her to use super strength, extendable legs and arms and resistance to injury.
Biography
Christine and her brother manifested their powers in the middle of church before they were sent to Xavier's to learn how to use and control her powers. Once there she was mind controlled by Cassandra Cain into attacking Wolverine before they were freed. She then had an ill-fated romance with fellow mutant Slick but once she saw who he really was she ended it. Next she joined the Omega gang of anti-Humans and started a riot at Xavier's along with her brother. They were defeated and sent to jail.
After M-day when mutants lost their powers they were recruited into the new Night Thrasher's new Warriors. She died in battle.